Mahalakshmi diksha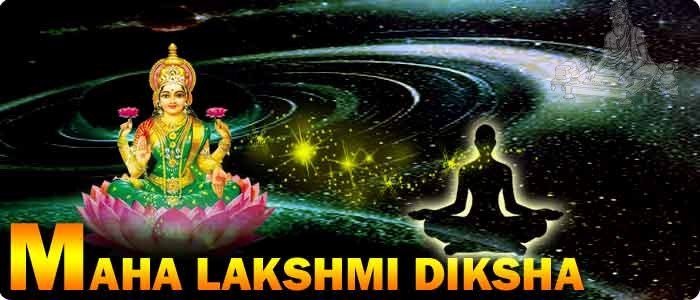 Mahalakshmi diksha for prosperity
When mata mahalakshmi is pleased then all the aspirations of person will get fulfilled. Maata to provide undestructible Great principles and methods to the someone who have to altitude of the soul through both devout and life objectives. Worship of maata mahalakshmi through tantra traditions is held to be ideal for heavenly happiness and joy, mental & spiritual satisfaction, and in general wealth. Mother mahalakshmi is shown to get belongings, both in terms of spiritual authority and as well material assets. She confers sustenance, support and abundance of material prosperity, love and comfort in the life of people.

After Mahalakshmi Diksha
Chant 1 mala (108) mahalakshmi mantra or beej mantra daily
Ones a month donate food to Pandit or needy person.

Mahalakshmi Diksha Positive factors
Makes a person financially independent and economically successful.
Gets rid of hurdles in own and professional life.
Cuts down the uncomfortable side effects of Grah Dosh.
Family life gets more pleasant.
Interactions knowledge also perk up which causes better consequences for business.
Mahalakshmi Diksha benefits
Mahalakshmi Diksha has lots of of advantages. It covers someone from:
Lower income
Mortgage
Business crash
Losing accrued prosperity
Lack of immovable your possessions
Individuals who are encountering fiscal crunches
Mahalakshmi Diksha muhurt
Day of Mahalakshmi Diksha : Any Ekadashi, Tuesday, Thursday and Guru pushya nakshatra
Mahalakshmi Diksha Direction: East
Mahalakshmi Diksha time: After 4am to 6pm between
Who can get this Mahalakshmi Diksha
Above 18 years Male/Female can GET Mahalakshmi Diksha
See puja/sadhana rules and regulation
See- about Diksha
See- Mantra jaap rules
Mahalakshmi diksha reviews
Be the first to write a review of this product!
Ask Question about this "Mahalakshmi diksha"