2015 — GuruDiksha

Gurudiksha Gurudiksha
December 29, 2015
Makar sankranti
15th Jan. 2016
Makar sankranti is a foremost harvesting function celebrated several regions of India. Based on the astrophysical calendar, whenever the sun strikes from the Tropic of Cancer to the Tropic of Capricorn or from Dakshinayana to Uttarayana, in the month of Poush in mid-January, it celebrates the start of the harvest season and cessation of the north east monsoon in South India. The moving of our planet from one zodiac sign into another is known as Sankranti and as the Sun goes into the Capricorn zodiac referred to as Makar in Hindi, this situation known as Makar Sankranti in the Indian context. It's mostly of the Hindu Indian celebrations that are celebrated on a fixed date i.e. 14th January every year. Makar Sankranti, aside from a harvest festival is also seen as the start of an favorable time in Indian traditions. It is well known as the 'holy phase of transition'. It marks the end of an gloomy stage that based on the Hindu calendar takes place around mid-December. It is claimed that any fortunate and revered conventional are usually sacred in every Hindu family, this day onwards. Clinically, this day marks the starting of warmer and longer days in observation to the nights. Therefore, Sankranti marks the termination of winter season and start of a new harvest or spring period. Everywhere in the country, Makar Sankranti is seen with great fanfare. But nevertheless, it is celebrated with distinct names and traditions in different parts of the country. In the states of northern and western India, the festival is celebrated as the Sankranti day with particular zeal and fervor. The power of this day have been represented in the prehistoric epics like Mahabharata also. So, aside from socio-geographical significance, this day also holds a historical and religious consequence. As, it is the festival of Sun God and he is considered the most representation holiness and intelligence, the festival also holds endless meaning to it.
What should be done this powerful day?
So that you could complete lots of activity on this day....

Gurudiksha Gurudiksha
November 3, 2015
The most effective blessedness of the "NIGHT OF LAKSHMI PUJAN" (Diwali)
Mahalakshmi Pujan this is usually a Hindu sacred prayer vocal on Amavasya, the 3rd day of Deepavali. Enthusiasts show reverence to the Devi Mahalakshmi by placing small oil lamps or candles in and out their houses. They pray for wealth and well-being for their own families and businesses.
According to historical past, Mahalakshmi, the devi of wealth and Vishnu's wife, visits her devotees and grants gifts and blessings upon each of these them. To welcome the Goddess, devotees clean their homes, decorate them finery and lights, make preparations sweet treats and delicacies as offerings. Devotees believe the happier Mahalakshmi is with the visit, the greater amount of she blesses the family with health and wealth.
Mahalakshmi Puja, and the worship no matter what the goddess of wealth, is probably the leading event of Diwali in North and West India. It is popularly thought that Mahalakshmi likes cleanliness and will visit the cleanest house first. Hence, the broom is worshiped with offerings of haldi (turmeric) and kumkum (vermilion) within this day. Lamps are lit after work hours to welcome the goddess because are said to illuminate her path. On this day, a supported light of knowledge is known to dawn upon humanity. This self-enlightenment is expressed throughout the twinkling lamps that illuminate the abode no matter the worshippers. It's thought that on at the present time, the goddess walks within the green fields and loiters in the by-lanes and showers her blessings on mankind for glory and prosperity.
The third day's Diwali is regarded as the most auspicious day; this is when Lakshmi Puja is performed. With pomp and ceremony, Mahalakshmi is invited into the properties of devotees to partake whatever the gifts that are part of the puja.
Mahalakshmi Puja comprises a combined puja of five deities: Ganesha is worshiped firstly of every auspicious be Vighneshvara; goddess Lakshmi is worshiped in their three forms; Mahalakshmi the goddess of wealth and cash, Mahasaraswati the goddess of books and learning and Mahakali. Kubera the treasurer of the gods can also be worshiped..
At first, the houses are cleaned and a rangoli is drawn on the doorstep to welcome Goddess Mahalakshmi.
Lakshmi Pujan is the most auspicious and holy day ever to come into your life. No matter how difficult or tough you wish/desire is and how much you have been trying to make it possible but still failed in it, it will be definitely fulfilled by the holy blessing of goddess mahalakshmi. All of your pending works/tasks/assignments or anything in which you are not getting success will have a way open for its completion. Any kind of spiritual activity, sadhana, puja, havan, etc performed or products bought on this DIWALI NIGHT will possess a 100x times much more effect and holy energy.
....................................
To be successful in your path of your life, you can take Diksha of Lakshmi, Kanakdhara Lakshmi, Kuber Lakshmi, Ashta Mahalakshmi, Yakshini, Saraswati, Kali and all other kinds of wealth related diksha. Success rate goes on increasing in this night of Diwali by taking these diksha.
You can purchase any sadhana between 9th Nov 2015 to 11th Nov 2015 and only get the Diksha performed on the night of diwali ( LAKSHMI PUJAN ) i.e 11th Nov. 2015.
Also any wealth related pujan performed especially on the night of Laxmi Puja will get the results benefitting you with a probability of 100x times.
....................................
Your enemies become very aware & wish to to harm you particularly on this Diwali night. So that you could also perform a protection puja / sadhana for the safety of you and your family from your enemies whether hidden or not.
Tantra related products become very much effective and gets charged with twice the amount of spiritual power on this night. So you can buy a spiritual product on laxmi pujan for energizing the product on this sacred night. See details on tantra products.

Gurudiksha Gurudiksha
October 27, 2015
Dhanteras 2015
Monday 9th Nov. 2015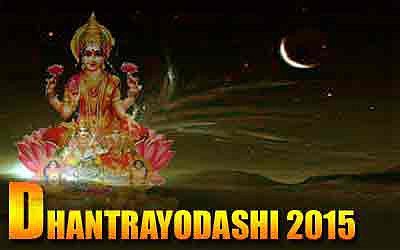 Dhanteras also is often called Dhantrayodashi is a first day from 5 days long Diwali festivals. When it occurs of Dhantrayodashi, Devi Mahalakshmi exited the sea through the rolling of the Milky Sea. Therefore, Devi Mahalakshmi, with Lord (bhagwan) Kubera who is the God of wealth, is worshipped on the fortunate day of Trayodashi. Though, Mahalakshmi Pooja on Amavasya after 48 hours of Dhantrayodashi is deemed higher.
Dhantrayodashi is a first day event of the huge and well-known Hindu festival, Diwali which is five-days long festival and observed in traditionally everywhere in the India. Dhanteras festival is celebrated on triodasi of the Krishna Paksha (the dark fortnight).

Furthermore it is called Dhanvantari Triodasi, celebrated on the auspicious thirteenth lunar day of the Krishna paksha of the month of Kartik. Based on the Hindu calendar, the month of Kartik falls between the month of October and November.

The interpretation of Dhantrayodashi is wealth; at this day number of individuals make wish to the Goddess Mahalakshmi to have wealthy life and wellness. They worship Goddess Mahalakshmi and Lord (bhagwan) Ganesha jointly. There's a custom of buying anything new as well as get it at home helping to make the meaning that Mahalakshmi came home. And the whole year Mahalakshmi will come to the home like today. Dhanteras embraces a unique significance for the business communities as they make traditional purchases of the expensive metals on this day.
Mahalakshmi Pooja on Dhanteras or Dhantrayodashi have to be executed during Pradosh Kaal that starts after sunset and approximately endures two hours and minutes.
This day perform Lakshmi-kuber puja or lakshmi diksha .