​Dhantrayodashi 2015

Gurudiksha Gurudiksha
October 27, 2015
Dhanteras 2015
Monday 9th Nov. 2015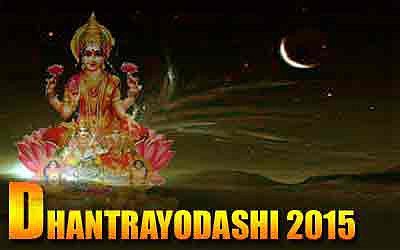 Dhanteras also is often called Dhantrayodashi is a first day from 5 days long Diwali festivals. When it occurs of Dhantrayodashi, Devi Mahalakshmi exited the sea through the rolling of the Milky Sea. Therefore, Devi Mahalakshmi, with Lord (bhagwan) Kubera who is the God of wealth, is worshipped on the fortunate day of Trayodashi. Though, Mahalakshmi Pooja on Amavasya after 48 hours of Dhantrayodashi is deemed higher.
Dhantrayodashi is a first day event of the huge and well-known Hindu festival, Diwali which is five-days long festival and observed in traditionally everywhere in the India. Dhanteras festival is celebrated on triodasi of the Krishna Paksha (the dark fortnight).

Furthermore it is called Dhanvantari Triodasi, celebrated on the auspicious thirteenth lunar day of the Krishna paksha of the month of Kartik. Based on the Hindu calendar, the month of Kartik falls between the month of October and November.

The interpretation of Dhantrayodashi is wealth; at this day number of individuals make wish to the Goddess Mahalakshmi to have wealthy life and wellness. They worship Goddess Mahalakshmi and Lord (bhagwan) Ganesha jointly. There's a custom of buying anything new as well as get it at home helping to make the meaning that Mahalakshmi came home. And the whole year Mahalakshmi will come to the home like today. Dhanteras embraces a unique significance for the business communities as they make traditional purchases of the expensive metals on this day.
Mahalakshmi Pooja on Dhanteras or Dhantrayodashi have to be executed during Pradosh Kaal that starts after sunset and approximately endures two hours and minutes.
This day perform Lakshmi-kuber puja or lakshmi diksha .